Percolate has a very distinctive booking policy; we always endeavour to book headline artists who we think best embody the sound that we love. At grassroots level this sound is championed by our nearest and dearest. These aren't necessarily DJ's you may have heard of, or people that even push themselves as artists – but they personify everything that we're about and play the tunes that we love.
We asked a handful to describe what they look to achieve with their sets, what they think makes the best kind of party to select for, and to share a track that has been doing damage for them recently…
My philosophy behind the decks? Simple – to have fun! When the crowd is having fun then so am I. That's why I DJ and that's why people go out to party.
The party? It's all about the people who attend and the promoters getting it right. Nights who's vision goes beyond the music – those that grow carefully and nurture the atmosphere – those are the best places to go to and the best parties to play at.
A track currently doing the business for me: 
Possibly the best record I bought this year – its fresh, timeless, funky, organic, soulful and always makes me smile!

What we look to achieve behind the decks…It really depends on what time we're playing and who's either side of us. We're definitely lovers of the perfect warm up. A good warm up DJ should ease people on to the floor and set the tone of a party. We love to play slow, but equally aren't scared of upping the BPM – and as we spend a lot of time digging for older records it's amazing to see people dance to tracks they may have never heard – just as if they know them. Ultimately it's also about having as much fun as is possible when we're doing it, otherwise what's the point….
Best kinda party to play for…It's all down to having an open minded crowd that want to have fun. We love a crowd that's open to anything. Disco, house, techno, afrobeat!

Also. Effort in terms of the sound, a decent monitor, well looked after turntables, nice security…and everyone's winning.
The tracks:
An amazing slice of upbeat 80s Miami funk/disco. Found this in an old US released compilation and eventually tracked down a copy of the 12″ from a Japanese dealer. It has everything we love in a disco record. Epic strings, stand out bass-slapping and some retro space age build ups. Almost Jackson 5 territory on the vocals as well. Such a feel good record.


We've included this as 3 different people came over to ask what it was at our last party with DJ Rahaan – we played it in a warm up slightly pitched down. It's on the flip to Sanctified on Midland's new label Re-Graded which focuses on sample based disco-tinged house. We've been fans of Midland for a long time and all the releases on this new off-shoot label are great for the dancefloor.
Philosophy behind the decks for me…is to make a raw, visceral connection with the crowd through the music; get people into the zone and keep them there.
The best parties to play at…combine two closely related factors: A) Open minded promoters who have an ear for quality and don't only depend on hype, and B) A crowd that trusts the promoters to deliver the goods and comes more for the event, rather than particular bookings.
Track that has been doing some damage recently:


Great edit of this afro funk killer. From the moment the track starts with the syncopated bass, the tension and groove just keep building. Drives people into a frenzy every single time.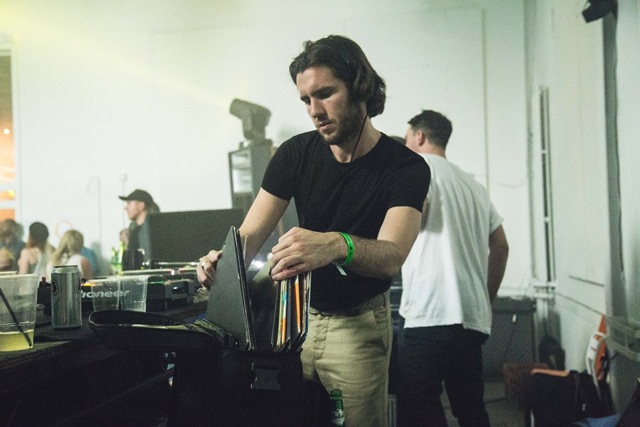 My philosophy behind the decks? Anyone that knows me knows that when playing, first and foremost my main objective is to have a party. I'm not one to critique music or DJ styles too heavily and generally just judge things by the vibe in the room and if everyone's having a good time. That for me is why we go to clubs. If the ladies are dancing then I'm happy.
The party? I believe that what goes in to a party is what comes out of it. If there is love, effort and attention to detail then half the battle is already won. All the people desire then is to have even more of a good time! And providing the perfect soundtrack in these situations is A LOT easier.
A track that has been poppin' off for me:
This guy for me can do no wrong. He seems to get better with every release and shows more and more of what he can do. This was the last track on his EP this year on Numbers (which is great), I played it all summer and even still now if the winter vibe is right.
What do I set out to achieve with my sets…I do love older music and anything from 1989-1998 are the glory years for me. The amount of quality music that was made then but didnt get a sniff of daylight is incredible. So finding older gems and playing them to a crowd – while mixing it up with more contemporary stuff would be my main idea I guess. I would try and work out what works well with what and deliver it on the night according the the vibe of the party at that given moment.
The party to select for…I love intimate parties most. You go to these parties expecting a good night, both from the audience's point of view and the DJ's. I think you can relay the message a lot easier when there is 200/300 people in a small, sweaty room with a sweet system. Ive been helping throw parties in intimate spaces around London and nothing beats that intimacy. When I played for Percolate at the 3rd birthday it was the same vibe, everyone was there for a good time.
Doing some damage:

Got to be his one recently. My mate actually passed it onto me as he loves his balearic. Perfect for opening a set or even closing. 24 years young!
My philosophy…I always try to make my sets clean and tight, with each mix aiming for that perfect execution between tracks. I learn my music inside out before taking to the club, and depending on where I'm playing – try to have the right tracks to suit the atmosphere. You've got to test the crowd to see if they want to go hard, or play it smooth n groovy – it's always down to the room in front of me.
Best kind of party to play…Depends on a lot of things! Mainly the promoters and the crowd of course. I usually think harder about the music I wanna play for big events. That said, having a party with all your friends there can be just as special – I always love playing for an educated crowd or one with open minds!
A track doing the business:
There are a good few tracks that have stayed in my bag through Summer and into the last few events of this year. One that springs to mind has to be a Defected release called Strobe by these two Dutch guys going by ANOTR. This track has always done the business for me wherever I play it! Screaming vocals and an amazing build up perfect for those peak time hours…
Philosophy behind the decks?
F: Our philosophy is to match the set time, time of day, venue style and who is on before/after us to the music. We like a really wide range of music so enjoy playing different kinds of sets as we get to play different music.
K: We want the crowd to have as much fun as possible, most people go to Clubs/ Parties to dance so we do our best to keep the energy up and get them grooving.
What makes a party the best kind of party to select for?
F: A fun crowd. You always buzz of the crowd and if they aren't engaged or up for a party it can be a hard hour or two.
K: It also always helps if a party has a good sound system and the decks are all set up properly, but yeah a good crowd is definitely the most important thing.
A track to has gone off in your sets recently?
Norma Jean Bell – I'm The Baddest Bitch (K+F Bump Edit)
F: The original of this track is awesome but I couldn't find a chunky enough version for our sets so we created our own version which has been going down really nicely.